Scrufdog's 1995 Honda CBR600 F3
"Captain Murphy"
Motorcycle General Maintenance, Advice, Tips (work in Progress)
Owned since May 2007.
32,000 miles
Engine:
600cc Inline 4
APE manual cam chain tensioner
NGK Iridium IX 6216 spark plugs
Fuel & Tuning:Exhaust:
Vance & Hines SS2R slip-on muffler
Drivetrain/Transmission:
RK X-ring 520 Chain
RK Steel 14 tooth front sprocket (-1)
RK Steel 43 tooth rear sprocket
Aluminum CBR chain guard
Russell Stainless Steel 2 Line Racing braided brake lines for the front
6 speed
Red clutch cable adjuster
DiGi Gear Indicator
Speedohealer +5% (accurate according to GPS)
Suspension, wheels & tires:
Rebuilt forks with RaceTech springs, new seals and bushings
Michelin Pilot Power Tires
180/55/17 on back
120/60/17 on front
Tourmaster 5mm disc lock
Electrically Related:
2001 F4i Digital gauge dash
2002 Suzuki GSX-R 1000 voltage regulator/rectifier
Drag racing lanyard killswitch
Electronic seat/trunk popper kit
Clear Alternatives rear light with turn signals added to the sides.
HID headlight conversion, 6000K
Clear front marker lights, dual filament
Exterior:
(97-98) Repsol fairing set
Clear Double Bubble Pit-Eck windscreen
New Upper fairing stay
Painted gas tank black (8 layers of paint)
Carbon fiber triple tree cover
Carbon fiber front brake master cylinder cover
Carbon fiber levers
Carbon fiber bar ends
Fender Eliminator/Undertray kit
Cargo net
Carbon Fiber look seat cover, orange, white, black
Polished factory mirrors
Rear hugger removed
Relocated rear shock gas reservoir to behind rear right fairing
Black/Red CBR hand grips
Frame sliders (off for the moment with the new fairing set)
Cortech magnetic tank bag for chase cam
Cortech rear bag set, saddlebags and tail bag
Black Stomp grips
Stickers
Misc:
Shoei Multi-Tec helmet
KBC ffr Element helmet with mirror visor
Cortech GX Sport textile jacket with CE armor
Cortech textile pants with CE armor
Joe Rocket Orbit armored boots
Aftermarket ignition cylinder
Built in Battery Tender Waterproof 800 charger
Sony 520 chase cam with DXG-521 DVR
T-Rex front and rear stands, Red
General Maintenance:
(above and beyond oil changes and usual stuff)
Coolant flush and fill, using Water Wetter and Peak 50/50 premix
Using Rotella T 5w-40 Full synthetic
Cleaned and lubed chain with HondaLube
Replaced steering stem bearings
Replaced many missing nuts, bolts, screws






Bike changes coming in the spring.....

New purchases

Black swimg arm - looking to be a summer project, so I can get it cleaned up and re-blacked





Redo existing stuff
Powdercoat some of the metal pieces Satin Black...foot pegs, shifter, rear brake lever







Summer/Fall 2007 Pictures

Pictures from sometime around June.





The day I installed my frame sliders, August.




Picture of how far off the muffler was before I fixed the pipe.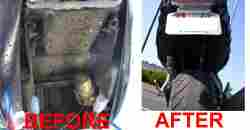 Comparison of the undertail from when I got it, till when I installed the new stuffs.




I'm 6'3" and 240 lbs... poor little bike.




Getting ready to change the front brakes. '99 F4 in the background.





... and the last pictures of 2007, as I left it in the shed, in October.







Spring 2008 Pictures

General pics of the bike as it sits. New fairings not here yet.




Electric seat popper kit installed, and new exhaust shield installed.




Pics from my F4i gauge install. I used 1/4 inch plexiglass for the custom bracket. After cutting and sanding it, I used 1000 wet sandpaper to buff it up and give it a slightly cloudy look.




The gauges at night, while having the laptop hooked up the them feeding a signal to bring the odometer miles up to the bikes actual mileage.





The start of installing and fitting the new fairing set. The lower fairings didnt have heat shielding on them, so I got some foil tape and went crazy. Oh yeah, the cat helped.




The initial fit (or lack of) of the fairing kit. This is what happens when you buy the $600 set instead of the $1700 set. Most of the problems I solved after a lot of dremel work and new hardware. I still need to do something about the tail section, I got some ideas to make the pieces come together tighter.




You can see where I installed the yellow disc lock in the open area where the old gauges were. Also, the last bit that needs help in the tail. The large holes are for the UK version of the bike where a grab bar sticks out. I'm trying to get one shipped here.




Basically finished. Just have to install the tank pad, Stomp Grips and stickers on the tank.





Finally got the finishing touches done. Stickers, Stomp Grips, Tank pad.




Spend some time riding while working in the Boston area. This is in Manomet, MA.